The treatment planning process can be the biggest challenge for any dentist. The goal of all treatment plans is to create long-term stability in the masticatory system regardless of how simple or complex a patient's conditions present. However, the dilemmas that dentists face sometimes lead to restorative failure or patient dissatisfaction.
In solving these problems, one must ask several question. Where do you start? When do you phase treatment? How do you sequence a treatment plan correctly? What procedures can you provide should your patient not accept the 'ideal' treatment plan?
Join me on
Tuesday, April 16th at 7pm EST

where we will discuss: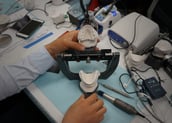 Outlining the necessary records for predictable diagnosis and treatment
Understanding how the Dawson treatment planning protocols create specific procedures
How to use composite to stabilize an occlusion
Phasing & sequencing treatment to manage an occlusion
Modifying complete treatment plans and creating modified ones
If you're not able to make this live webinar, it will be recorded for later viewing.
By registering, you submit your information to the webinar organizer, who will use it to communicate with you regarding this event and their other services. Fill out the form to the right to register for this webinar.